# Nag Tibba Trek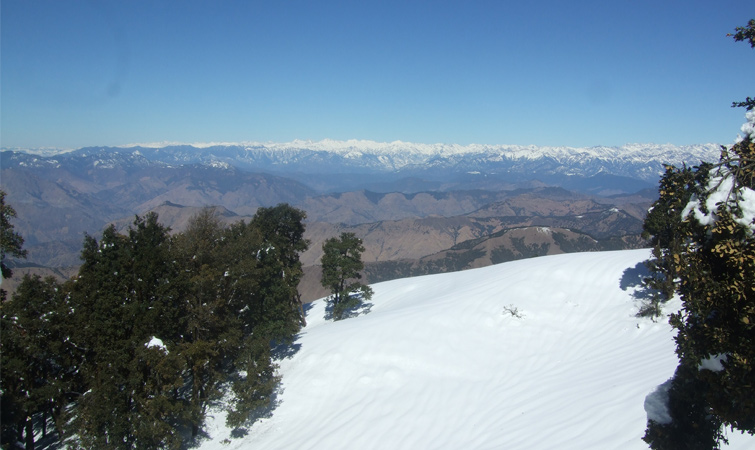 Nag Tibba Trek Dehradun , Uttaranchal

How to Reach: Reach Dehradun by an interstate or Volvo bus or train from Delhi. From Dehradun you can choose share buses, share taxi or private cab to Mussoorie, hire a jeep or taxi to Pantwari or Devalsari.
Considered to be one of the best weekend treks from Delhi, the 'Nag Tibba Trek' near Mussoorie, is a trekker's delight. Situated at almost 10000 ft. above sea level, 'Nag Tibba' or the 'Serpent's Peak' is the highest peak in the Nagtibba range of the Garhwal Himalayas. The trek takes you through beautiful forests of oak and deodars. As you reach the Nag Tibba peak, you are welcomed with breath-taking views of the 'Bandarpunch Peak', 'Kala Nag Peak', 'Swargarohini Peak', 'Kedar Nath Peak' and 'Gangotri' group of peaks.
The Nag Tibba summit can be reached mainly via 2 routes. The first one is the shortest and starts from the Pantwari village, located at a distance of 85 km. from Dehradun. Due to the complexity of the route, it is recommended to hire a guide for this route. As you start from Pantwari, reach the base of the Nag Tibba peak in the late afternoon; spend the night in the camp and resume your journey to the peak next morning. The overnight camping at the base of the Nag Tibba peak requires permission from forest officials at Mussoorie.
The second route starts from the tiny hamlet of Devalsari, located at a distance of 45km. from Mussoorie. The Nag Tibba peak can be reached by travelling a distance of around 10 km. Stunning views of 'Pir Panjal range', 'Dhauladhar ranges' and 'Doon valley' can be witnessed as you walk through the winding trails from Devalsari to Nag Tibba. An overnight stay can be arranged either in the forest guesthouse or in a camp, both of which requires permissions from the forest office in Mussoorie
Ajeet
24-Mar-2017