# Dodital Trek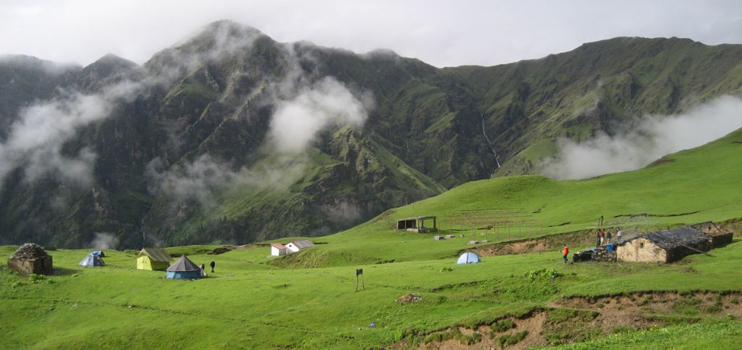 Dodital Trek Haridwar / Rishikesh , Uttaranchal

Altitude: 13,600 ft.
How to Reach: Reach Haridwar/Rishikesh by an interstate or Volvo bus or train from Delhi. From Haridwar/Rishikesh you can choose share buses, share taxi or private cab to Uttarkashi/Sangamchatti.
Surrounded by the forests of oak, pine and rhododendron, 'Dodital' or the 'Dodi Lake' is one of the most beautiful high altitudes freshwater lakes nestled amidst rising Himalayan peaks in Uttarakhand. Serene and tranquil settings of the lake make it an ideal weekend escapade for adventure enthusiasts and trekkers from nearby areas. According to Indian mythology, Dodital also holds a great religious significance for being the birthplace of Lord Ganesha. A beautiful temple dedicated to Lord Ganesha is situated close to the lake and is visited by many pilgrims throughout the year.
Trek to Dodital starts from 'Sangam Chatti', a small hamlet situated near Uttarkashi. The trekking trails take you through forests of oak, deodar and rhododendron. On your way, witness the beauty of small sparkling streams, deep gorges, valleys and snow-capped Himalayan peaks. Sights of colourful mountain birds such as Himalayan Tree Pie, Himalayan Whistling Thrush, Himalayan Babbler, Red-Billed Blue Magpie and many more; will make your trek even more exciting and fun. As you reach the Dodital, soak yourself in the peaceful environment and pay a short visit to the Ganesha Temple. After taking a break at the Dodital, you can trek further 2500 ft. to the 'Darwa Top' from where the view of the Himalayan ranges is indescribable in words
Ajeet
24-Mar-2017